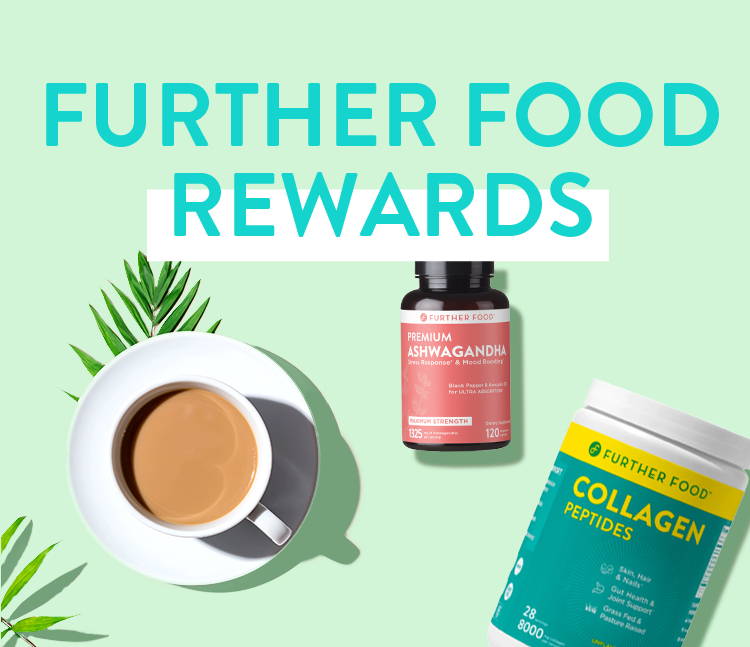 Join now and watch your points grow.

Earn points every time you shop.

Unlock gift cards, free products, and perks.








I tried to create an account, but I received a message that I already have one. How do I access that?
Great question! If you remember the email address you used to place your past orders, you can log in HERE. If you need to reset your password, you can do so. If you don't recall the email address you used to place your order, you can email us at wecare@furtherfood.com and we can assist you.
Do I need to keep track of my points or will you?
We keep track of your points for you! Just log into Further Food and click on our rewards app where you will find all your earned points.
How do I earn points for "Celebrating a Birthday"?
When you log into your rewards program, click Ways To Earn. Under "Celebrate a birthday" click the button that says "Edit Date" and add your birthday. You must enter your birthday at least 30 days in advance to be rewarded. Every year on your birthday, you will automatically receive 20 points.
I just followed you on Instagram/Facebook. How can I get the points added to my account?
Your points will automatically be added to your account, no need to do anything on your end!
I'm a Subscribe & Save member. Do I still need to create a Rewards account?
Yes. You will need to create a Rewards Account to start earning points for your recurring orders.
It says I can redeem $5 discounts at 400 and 500 points. Which is it? How do I redeem at 400 points?
Great question! If you are a Subscribe and Save Member, you can start redeeming discounts at 400 points. If you do not currently have an active subscription, you can start redeeming points at 500 points. You can learn more about our Subscribe and Save Program HERE.